Only God Forgives is a 2013 French-Danish co-production crime thriller film written and directed by Nicolas Winding Refn, starringRyan Gosling, Kristin Scott Thomas, and Vithaya Pansringarm. The film was shot on location in Bangkok, Thailand.[6] It was nominated for the Palme d'Or at the 2013 Cannes Film Festival.[7]


Julian Thompson is an American expatriate living in Bangkok, Thailand who runs a boxing club, which is actually a front for a massive drug smuggling operation. His older brother Billy brutally rapes and kills an underage prostitute before surrendering to the Thai police. Lieutenant Chang – known as the "Angel of Vengeance" – arrives on the scene before informing the girl's father, Choi Yan Lee. Chang allows Choi to beat Billy to death, but cuts off the man's arm for allowing his young daughter to remain in the business of prostitution.
Julian and his crew go to Choi's kiosk to confront him about his part in Billy's murder. Choi reveals that he was forced to kill Billy by the "Angel of Vengeance", and, by having his arm severed, has paid the price for his crime. Julian is mesmerized by the near-mythical Angel of Vengeance and spares the man's life. Julian's mother, Crystal, arrives in Bangkok to identify Billy's corpse, much to Julian's surprise. Crystal implores Julian to find the men who killed Billy, but he refuses—believing that Billy deserved what he got for his vile crimes against Choi's daughter—infuriating her. Crystal demands that Julian kill the Angel of Vengeance, but he again refuses.
One night, Julian brings a prostitute, Mai, to meet Crystal, who immediately begins hurling insults at her and Julian. Meanwhile, Liang, one of the fighters at Julian's boxing club, assassinates Choi at the behest of Gordon, a member of Julian's crew, at Crystal's request. Julian finds out Gordon is responsible and tries to kill him, only to be interrupted by the arrival of police, including Chang. Chang concludes that Julian is not Choi's killer, and Julian realizes that Chang is the Angel of Vengeance.
Crystal meets with a man called Byron to arrange Chang's assassination. Three gunmen are sent to kill Chang at a restaurant, and one of Chang's men is fatally wounded in the ensuing shootout. Chang manages to kill two of the gunmen and capture the third, who leads him to his boss Li Po, after which Chang kills the third gunman. Li Po points Chang to Byron, who ordered the hit. Chang finds Byron in a club and tortures him, stabbing his arms and legs with hairpins and sharpened ornamental metal sticks (similar to chopsticks). Byron reveals through his pain and screaming that the mother of Julian ordered the hit on Chang, he refuses to divulge a name however. Angered by Byron's defiance Chang grabs a pen knife/carving knife and tells Byron, "You can't see what's good for you. So it's better you don't see." Chang then slices both of Byron's eyes vertically from bottom to top, blinding him. He then Grabs an icepick and says, "You had an opportunity here, but you're stubborn and don't want to listen. Then stop listening" Chang then slowly sticks the icepick into ear as the scene cuts away to Chang at karaoke.
Julian confronts Chang about his role in Billy's murder and challenges him to a fight in the ring. Julian and Chang fight on the bare concrete floor of the boxing venue. Chang, an experienced boxer, easily and thoroughly beats Julian. Afterward, Crystal tells Julian that Chang has figured out she ordered the hit on him. Fearful, she orders Julian to kill him to avoid reprisals. Julian agrees.
Julian and his associate Charlie Ling enter Chang's apartment, intent on ambushing him when he returns. At the same time, Chang and a police officer visit Crystal and Chang cuts her throat after she reveals that Julian murdered his own father and suspected her and Billy of having an incestuous relationship. Meanwhile, Charlie informs Julian that he was instructed to execute not only Chang, but his entire family. Charlie murders Chang's wife as she enters the apartment, but is shot to death by Julian as he advances towards Chang's young daughter.
Julian returns to the hotel and finds his mother's corpse. In silence, Julian approaches her body and cuts open part of her stomach. He slowly places his hand inside of the wound, and then retracts it. After leaving and having several surreal visions, Julian is shown standing in a field with Chang, who appears to cut off both of Julian's hands with his sword. The final scene shows Chang singing karaoke at his favorite bar, with the credits showing superimposed on top.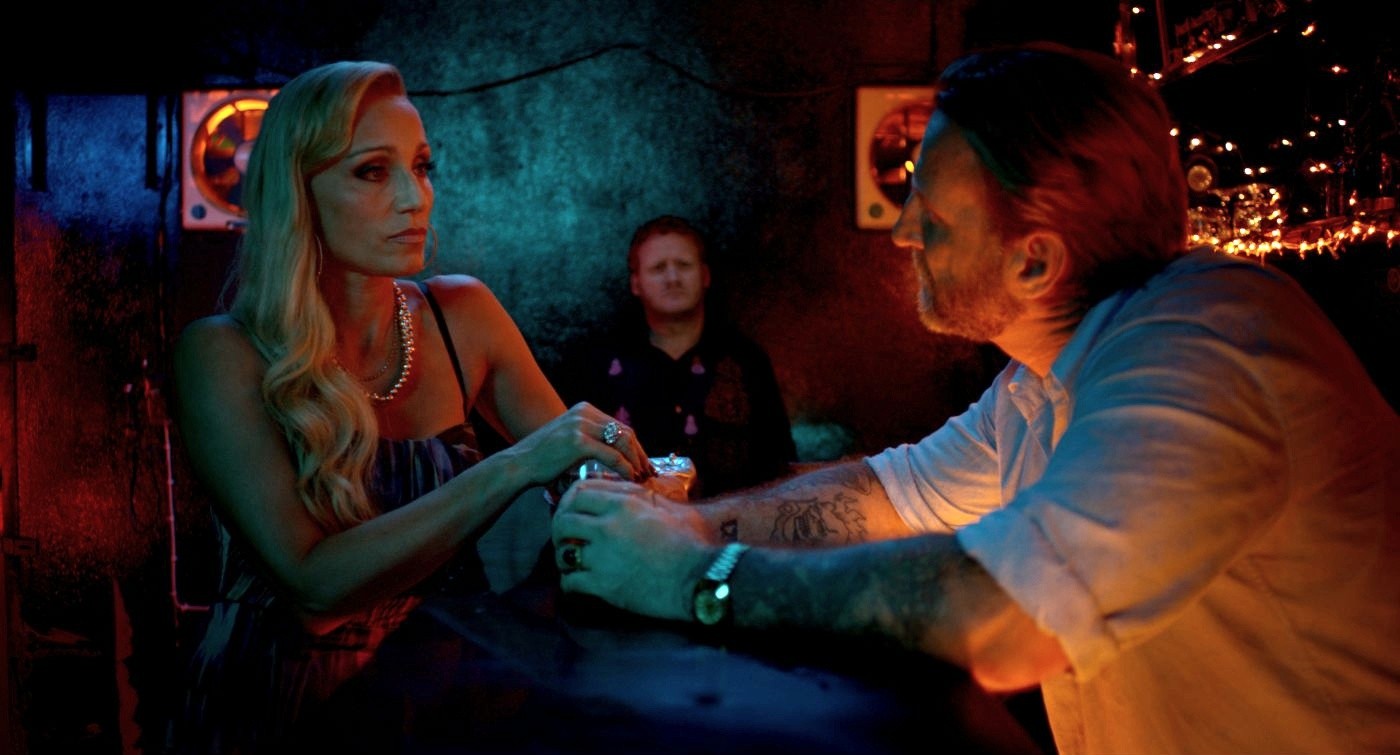 Ryan Gosling as Julian[4] Thompson, an American who lives in Bangkok and "is a respected figure in the criminal underworld" according to a production synopsis.[8] Gosling was in negotiations to star in the film in June 2011 after Luke Evans dropped out due to scheduling conflicts with The Hobbit: An Unexpected Journey.[9] Gosling had undertakenMuay Thai training in preparation for the role by that September,[10] which included 2–3 hour daily sessions.[11] Refn also participated in the training.[11] Gosling and Refn had recently worked together on the neo-noir crime drama Drive (2011).
Kristin Scott Thomas as Crystal[4] Thompson, Julian's mother, who is described as "a merciless and terrifying mafia godmother" combining elements of Lady Macbeth and Donatella Versace.[8][12] Scott Thomas was cast by May 2011.[13]
Vithaya Pansringarm as Lt. Chang, a man that believes himself to be "God". Pansringarm did his own thai boxing and singing for his role.
Rhatha Phongam (Yaya-Ying)[14] as Mai, a prostitute associated with Julian
Gordon Brown as Gordon, Julian and Billy's lieutenant. Brown earlier played a walk-on role in Refn's Bronson and a supporting part in Valhalla Rising.
Byron Gibson as Byron
Danai Thiengdham as Li Po
Sahajak Boonthanakit as Pol Col. KIM
Nophand Boonyai as Charlie
Teerawat Mulvilai as Ko Sam
Kovit Wattanakul as Choi Yan Lee
Wittchuta Watjanarat as Ma Fong
Production
[
edit
]
Refn has said that "[f]rom the beginning, [he] had the idea of a thriller produced as a
western
, all in the
Far East
, and with a modern cowboy hero."
[4]
He originally planned to direct
Only God Forgives
directly after
Valhalla Rising
(2009), but he accepted Gosling's request to direct
Drive
instead.
[15]
Gosling has described the script of
Only God Forgives
as "the strangest thing I've ever read and it's only going to get stranger."
[10]
Like
Drive
,
Only God Forgives
was largely shot chronologically and scenes were often edited the day they were shot.
[4]
Footage was screened at the
2012 Cannes Film Festival
.
[16]
Refn drew a connection between
Only God Forgives
and
Drive
, saying that "[
Only God Forgives
] is very much a continuation of that language"—"[i]t's based on real emotions, but set in a heightened reality. It's a fairy tale."
[15]
Reception
[
edit
]
The film received a very divisive response at its Cannes press screening; it was booed by many of the audience of journalists and critics while also receiving a standing ovation.
[12]
[18]
It received a polarizing response from mainstream critics. Review aggregation website
Rotten Tomatoes
gives the film a score of 33% based on reviews from 93 critics.
[19]
Robbie Collin
of
The Daily Telegraph
reflected concerns over the film in a 3 out of 5 star review. "The film's characters are non-people; the things they say to each other are non-conversations, the events they enact are non-drama," he wrote. But he praised Refn for following up his commercially successful film Drive with "...this abstruse, neon-dunked nightmare that spits in the face of coherence and flicks at the earlobes of good taste."
[20]
Peter Bradshaw
of
The Guardian
gave it 5 out of 5 stars, calling it gripping and praising the "pure formal brilliance" of every scene and frame, though he notes that it will "have people running for the exits, and running for the hills" with its extreme violence.
[21]
[22]
Richard Roeper
of
Chicago Sun Times
gave this film a positive review, giving it 3 and a half stars saying: "Refn's follow-up effort to the similarly polarizing 'Drive' (which I thought was flat-out great) is even more stylized and daring. 'Drive' star Ryan Gosling (who is clearly interested in carving out a career with at least as many bold, indie-type roles as commercial, leading-man fare) strikes a Brando pose playing Julian, a smoldering, seemingly lethal American who navigates the seediest sides of Bangkok."
[23]